How much is enough? And what exactly is the point of money anyway?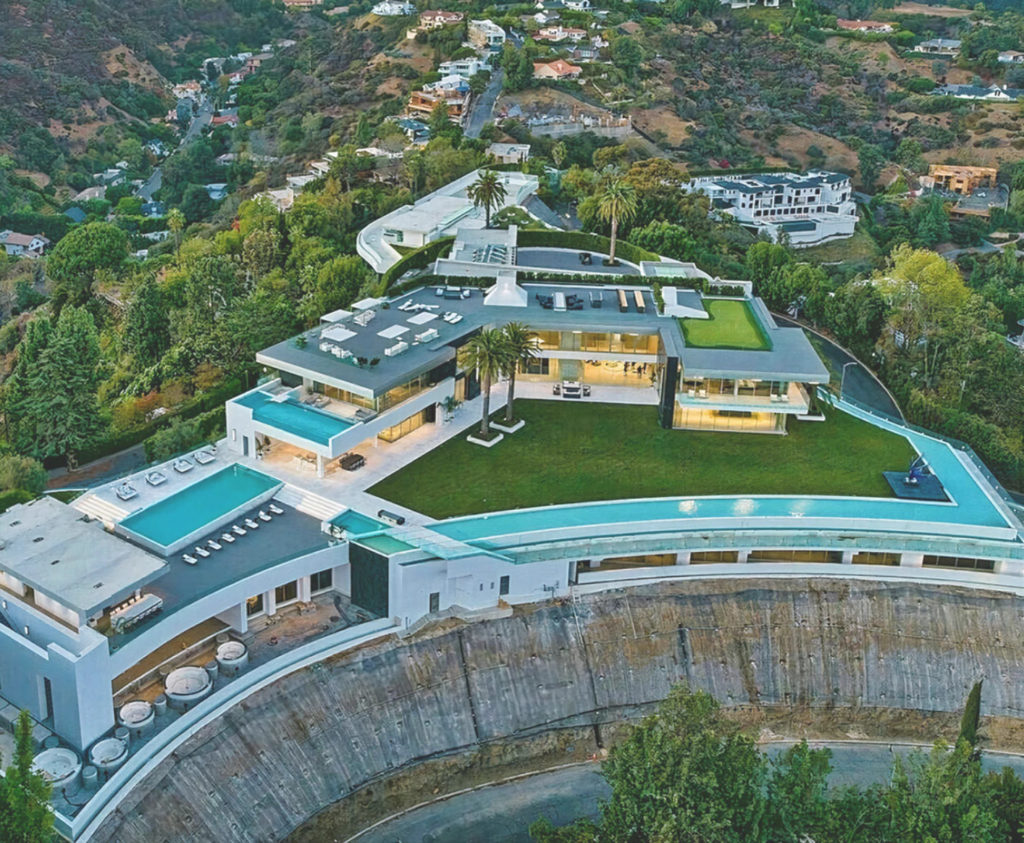 A little later on in this essay, I will answer a question that, while it may seem gruesome, is tied in with what I'll be talking about in this essay.
The question is: Why did Richard Cory go home last night and put a bullet through his head?
But first, let me tell you about "The One."
The One, located in the Bel Air section of Los Angeles, is a mega-mansion that has 21 bedrooms, 49 bathrooms, a 30-car garage, and is 105,000 square feet. Seven of the bedrooms are in a separate building for staff.
The largest bedroom is 5,500 square feet, with its own office, pool, and kitchen, and is meant to be a private retreat from the rest of the house.
The One has seven swimming pools in total, and five elevators. It also has a commercial-size beauty salon and a lounge where the walls and ceilings are made of jellyfish aquariums. The builder of The One, Nile Niami, when asked why it has jellyfish aquariums replied, "Because it's cool."
The architect of the mansion also designed the house that Jay-Z and Beyonce bought for $88 million a few years ago.
The One recently sold at an auction for $141 million, bought by Richard Saghian, a billionaire fast fashion designer. He will add this house to his collection of homes, which include a $15 million oceanfront home in Malibu and a $18 million home in Hollywood Hills.
The One's sale price was not a record for a real estate transaction, nor even the highest price for a house sold in California. That distinction belongs to billionaire Marc Andreesen, whose Malibu mansion he bought for $177 million. That broke the record that Jeff Bezos set when he purchased a Beverly Hills mansion for $165 million. And Bezos' purchase price had topped the previous record of $150 million, for a Beverly Hills mansion acquired by Lachlan Murdoch (son of Rupert).
And those prices dwarf in comparison to the highest purchased home in the U.S., which is a penthouse apartment on Central Park South in New York City, bought by another billionaire, who paid $238 million in 2019.
The most expensive home in the world is the $300 million Chateau Louis XIV, in France, bought in 2015 by Crown Prince Mohammed bin Salman, heir to the Saudi throne. The purchase of the Chateau is in addition to the Crown Prince's $500 million yacht and $450 million Leonardo da Vinci painting.
Sadly, in America, this fascination with the lifestyles of the rich and famous has led to so many people's obsession with money; yet, ironically, at the same time, the great majority of Americans are struggling to pay their bills—eighty percent of Americans live paycheck to paycheck.
Now let me go back to the question I posed at the top: why did Richard Cory go home last night and put a bullet through his head?
You may wonder what my listing of billionaires and their possessions has to do with this gruesome question.
Allow me to connect the dots.
Richard Cory was a billionaire, said to own one-half of this whole town, with political connections to spread his wealth around. Born into society, a banker's only son, he had everything a man could want—power, grace, and style.
He was rich, richer than a king, with yachts and mansions and the like. The people who toiled in his factories, who lived in poverty and cursed the life they were living, wished they could be Richard Cory—but the reality is that it would never happen. The working class made the mistake of not being born in the right place, unlike Richard Cory.
Richard Cory often showed up in the media, whether it was because he was attending an opera or show, or because of his charitable giving.
But then, one calm summer eve, Richard Cory went home and put a bullet through his head. And just like that, Richard Cory was dead.
Now, before you wonder why I'm telling you this ghastly tale on top of telling you about the excesses of the ultra-wealthy class, I have to come clean: Richard Cory did not go home last night and put a bullet through his head.
That's because Richard Cory is a fiction.
Richard Cory is the name of a poem by Edwin Arlington Robinson, first published in 1897, and also a song, "Richard Cory," written by Paul Simon in 1965 and released on the Simon & Garfunkel album "Sounds of Silence," in 1966.
Both poem and song tell the story of a man, Richard Cory, who had everything in life, but was lacking in one thing—happiness.
When Edwin Arlington Robinson wrote the poem, the era of the Gilded Age was taking place in America. The Gilded Age was the best of times and worst of times, depending on who you were.
It was an age of great industrial output—between 1860 and 1900, U.S. factory production soared from $1.9 billion to $13 billion, an increase of nearly 600 percent, allowing the U.S. to become the most powerful industrial economy in the world. New technologies such as steel were produced, and corporate heads such as John D. Rockefeller, Andrew Carnegie, Cornelius Vanderbilt, Andrew Mellon, and J.P. Morgan became celebrities and household names.
But there was a dark side to this Gilded Age. For every one of the wealthy, there were tens of millions living in poverty. The massive wealth inequality threatened the well-being of the nation. In 1890, when the U.S. population was 63 million, the top one percent owned 51 percent of the wealth and the top 12 percent owned 86 percent of the wealth, while the lower 44 percent owned just 1.2 percent of the wealth. Two-thirds of the population of New York City lived in cramped tenements, and tens of thousands of New York City residents were homeless. The economic prosperity was going to a sliver of the population—just like our current times.
During the era of the Gilded Age, there was tremendous labor unrest, as most workers were being exploited. Worker strikes were common as a tool to protest the unfair labor conditions—starvation wages, long hours, and unsafe conditions—that workers were forced to comply with. Between 1880 and 1900, there were 37,000 labor strikes, and often at these strikes, protestors would be killed by police, security guards, and federal troops, all called in by the owners of the factories.
And yet, while people were starving, and while factory workers were living in poverty, as the poem and song about Richard Cory tells, people looked up to him and wished they could be Richard Cory.
But then there's another song, Money Can't Buy Me Love. No amount of money can buy a person love. And it's the love of money, the lust for money, that takes something out of someone—a piece of their soul.
The love and lust for money is a sickness.
What I told you about above, of the billionaires and their homes and yachts and da Vinci paintings—there's something lacking in their hearts that their possessions are how they define their existence.
How much money does a person really need? And what matters most in life? Yes, we all need money, as money is how we do our exchanges in order to live. But when is enough enough? Does more money equate to more happiness?
Only to a certain degree. Psychologists say happiness is dictated by how much money a person has up until when a person makes around $70,000 a year. After that, more money doesn't equate to more happiness. And many people are very happy making do with a lot less than $70,000 a year.
But how about the people making tons of money a year, or those with enormous net worth? I'm talking about mega-millionaires and billionaires. How happy are they? What drives these people?
The writer Tom Wolfe called these people the "Masters of the Universe," in his book Bonfire of the Vanities. Wolfe described them as thinking they could do whatever they want, with no one to answer to.
And like Richard Cory, they became the heroes of society, the movers and shakers, the people who could control the flow of capital, set public policy, be celebrated for their wealth, give generously to charities, inspire envy in others with their lifestyles of the rich and famous, and basically lord over anyone below their stature.
But there is something missing: the love and lust for money fills a hole in their hearts, a hole that leads to an inability to feel any empathy for others.
They lie, steal, and extract money from people's pockets and the earth to fill their coffers, without any concern how it affects people or the planet. When there are wars, they are quick to profit from the misery that citizens are subjected to—as in Ukraine right now.
Just like their Gilded Age predecessors. About the robber barons of the Gilded Age it was once written, "Business leaders in the United States from about 1865 to 1900 were, on the whole, a set of avaricious rascals who habitually cheated and robbed investors and consumers, corrupted government, fought ruthlessly among themselves, and in general carried on predatory activities comparable to those of the robber barons of medieval Europe."
The Gilded Age was an age of obscene wealth inequality; it ended around 1900 with the election of Teddy Roosevelt as president, who helped usher in the Progressive Era. Anti-trust legislation helped end monopolies, labor reforms were enacted, women were given the right to vote, and many other reforms were constructed.
One very important reform was the enactment of a progressive income tax, in 1913. Before the progressive income tax, when the U.S. federal government had trouble paying their bills, they would borrow money from the billionaires. But now, with a progressive income tax, the billionaires were forced to pay the government a percentage of their income.
The progressive income tax is what helped the U.S. become a more fair and equitable society, especially beginning in the 1930s, with the onset of the New Deal. In the U.S. from 1932 to 1980, the top marginal income tax rate averaged 82 percent, with highs of over 90 percent from 1951 to 1963 and lows of 63 percent from 1932 to 1935.
High tax rates like these, payable only by people with income in the millions of dollars, was a feature that created a much more equitable society, essentially imposing a legal maximum income. It allowed everyone to thrive and have the opportunity to be more socially mobile.
But in the years since 1980, the highest tax rate has been 39.6 percent from 2013 to 2017, and the lowest rate has been 28 percent, from 1988 to 1990.
With the shredding of the top levels of taxation, the social contract has also been shredded; now the gap between the very wealthy and the rest of us has caused what economists call "oligarchic drift," a movement that has empowered a plutocracy, a rule by the wealthy, which is the defining principle of our time.
This is not just taking place in the U.S. This is a problem all around the world—in both democracies and countries run by autocrats, like Russia, China, Hungary, Brazil, Saudi Arabia, Kazakhstan, some African countries, and others.
This leads to extreme levels of wealth inequality, which then leads to major social and political problems within countries and amongst countries. These social and political problems amongst countries is how wars get triggered.
The people with the love and lust for money know what to do with their ill-gotten gains: they launder it, making the dirty money become clean by hiding it in anonymous shell companies that then travel the world looking for safe haven—and more and more these days, that safe haven is the U.S., where the money gets used to buy assets, and buy politicians and political causes, causes that are in alignment with the agenda of those who love and lust after money.
As I said, this love and lust of money is a sickness. When the income tax rates were high in the U.S., as they were from 1932 to 1980, the sickness was put on hold. But now the sickness is back in full bloom.
There is a simple cure: Bring back the tax levels that were in place from 1932 to 1980, and also stop the flow of dirty money that takes place in the U.S., by ending the practice of anonymous shell companies.
To conclude, let me tell you a true story, one that shows how art imitates life. Richard Saghian, the billionaire who bought The One, bought one of his other homes—his Hollywood Hills mansion—from the estate of the Swedish electronic music producer Avicii, who, just like Richard Cory, seemingly had everything a person could want—power, grace, and style.
He had a beautiful mansion in the Hollywood Hills that he bought in 2013 for $13 million. But in 2018, at the tender young age of 28, Avicii went home one night and took his life.
A tragedy, for sure. Many people had wished they could be Avicii, because of everything he outwardly had. But sadly, he was a tortured and troubled soul, and though he thought money could buy him happiness, instead it only brought him misery.
Four months after Avicii's death, Richard Saghian bought his Hollywood Hills mansion for $18 million. And now Richard Saghian, after the purchase of The One, owns three mansions.
How much is enough? What exactly is the point of money anyway? And is there a way to live without it?